OPTIMALISASI WEBSITE DESA DALAM EFISIENSI PELAYANAN, POTENSI DESA DAN PENINGKATAN SUPPLAY BARANG DI DESA KARANGJATI PASURUAN
Keywords:
website, potential, promotion, community
Abstract
To carry out community service activities in Karangjati Pandaan Village to help optimize village potential, village services, and community production by making village website applications. The village website is a village information system in the digital era that contains news, photos, and videos that the wider community can access anytime and anywhere. With the village website, it is hoped that all forms of services in the village are easier to implement. The potential and results of community products in the village are more easily recognized by outsiders as village promotion materials and increase the supply of goods outside the area. The method used in community service activities in Karangjati Pandaan Village is the method of observation, interviews, and literacy studies which are expected to explore all the data and potential in the village, which we will develop through the village website that has been created. The result of this community service activity in Karangjati Pandaan Village is the formation of a village website which is expected to facilitate village services, develop potential and increase the supply of goods to lift the community's economy.
References
Muh. Muzani Zulmaizar, 2UL Khairat. (2020). Digital Profil Desa Menggunakan Website Untuk Meningkatkan Potensi Desa Pappandangan. Jurnal Pengabdian Kepada Masyarakat, 20, 15.
Da Riyanto, S., & Kurniawati, I. D. (2018). Rancang Bangun Website Desa Kresek-Madiun Untuk Media Informasi Potensi Wisata Alam Dan Kulinier. Jurnal Sistem Informasi Dan Ilmu Komputer Prima (JUSIKOM PRIMA, 1, 2.
Hasanah, H. (2016). TEKNIK-TEKNIK OBSERVASI. Jurnal At-Taqaddum, 8, 26.
Leonardo Putera Dwifangga S, Stephanny F. W, Desiana Puji Rahayu, Christian Felix Gunawan, Maura Kevin Ardyanto Putra, I., & Aldo Tohonan L. Toruan, Damardjati Purnomo Murti, Josia Elchristo Tanggara, Bona Santia Gandhi, B. G. V. P. (2021). Potensi Desa Tawangsari, Pengasih, Kulon Progo sebagai Desa Agrowisata. Jurnal Atma Inovasia (JAI), 1, 215.
Ray, R. (2009). Supply Chain Management for Retailing.
Wirantari, G. A. D. I. M. dan I. D. A. P. (2021). Pengembangan Website Desa Dalam Meningkatkan Kualitas Pelayanan Publik di Desa Bona, Gianyar. Journal of Contemporary Public Administration (JCPA), 1, 16.
Yuhana, A. N. (2019). Optimalisasi Peran Guru Pendidikan Agama Islam sebagai Konselor dalam Mengatasi Masalah Belajar Siswa. Jurnal Penelitian Pendidikan Islam, 7.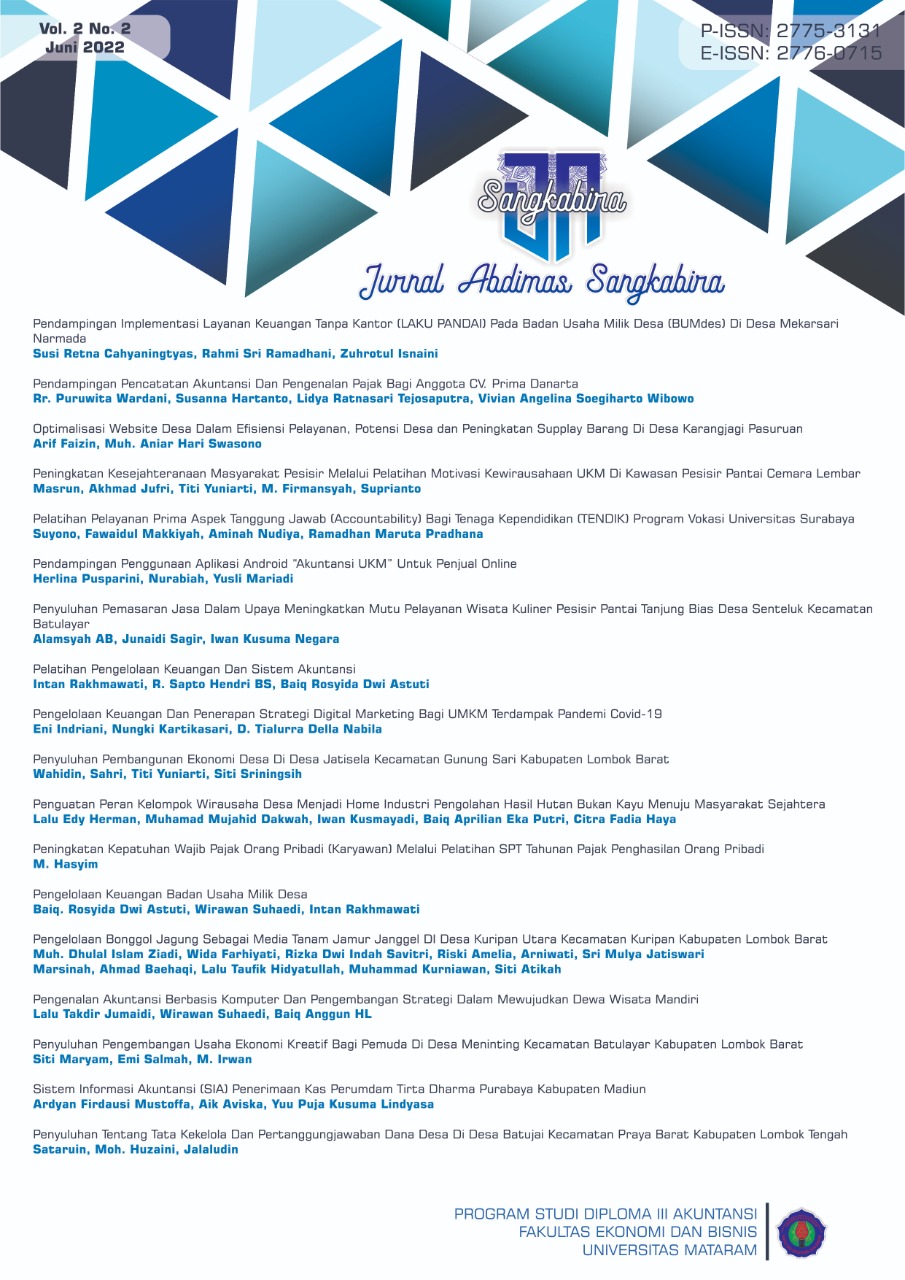 Downloads
How to Cite
Faizin, A., & Swasono, M. A. H. (2022). OPTIMALISASI WEBSITE DESA DALAM EFISIENSI PELAYANAN, POTENSI DESA DAN PENINGKATAN SUPPLAY BARANG DI DESA KARANGJATI PASURUAN. Jurnal Abdimas Sangkabira, 2(2), 163–173. https://doi.org/10.29303/abdimassangkabira.v2i2.112
License
Copyright (c) 2022 Jurnal Abdimas Sangkabira
This work is licensed under a Creative Commons Attribution-NonCommercial-ShareAlike 4.0 International License.
Penulis yang naskahnya diterbitkan menyetujui ketentuan sebagai berikut:
Hak publikasi atas semua materi naskah jurnal yang diterbitkan/dipublikasikan dalam situs Jurnal Aplikasi Akuntansi ini dipegang oleh dewan redaksi dengan sepengetahuan penulis (hak moral tetap milik penulis naskah).
Ketentuan legal formal untuk akses artikel digital jurnal elektronik ini tunduk pada ketentuan lisensi Creative Commons Attribution-ShareAlike (CC BY-SA), yang berarti Jurnal Aplikasi Akuntansi berhak menyimpan, mengalih media/format-kan, mengelola dalam bentuk pangkalan data (database), merawat, dan mempublikasikan artikel tanpa meminta izin dari Penulis selama tetap mencantumkan nama Penulis sebagai pemilik Hak Cipta.
Naskah yang diterbitkan/dipublikasikan secara cetak dan elektronik bersifat open access untuk tujuan pendidikan, penelitian, dan perpustakaan. Selain tujuan tersebut, dewan redaksi tidak bertanggung jawab atas pelanggaran terhadap hukum hak cipta.