PENGOLAHAN BONGGOL JAGUNG SEBAGAI MEDIA TANAM JAMUR JANGGEL DI DESA KURIPAN UTARA KECAMATAN KURIPAN KABUPATEN LOMBOK BARAT
Keywords:
Bonggol Jagung, Limbah Pertanian, Jamur Jenggel
Abstract
Kuripan Utara is one of the villages in Kuripan sub-district, West Lombok regency, West Nusa Tenggara province, Indonesia. Leading potential in the Kuripan Utara Village is agriculture. The obstacle faced by the community is the lack of awareness about the management of agricultural waste products, one of which is corncobs waste. Alternative solutions can be done to hold socialization of making mushrooms from corncobs media. The method used is the preparation of socialization programs and training in making mushroom growing media from corncobs. The results of this community empowerment program are providing information, knowledge, and training to the Kuripan Utara community on how to treat agricultural waste such as corncobs. Like a mushroom growing media, Corncobs can be used as raw material to make innovative food products that can increase agricultural waste's use and economic value.
References
Aly, M. N., & Susilawati Ruyawari, M. P. (2019). Utilization of Waste Corncobs as Mushroom Cultivication Media in The Pataan Village, Lamongan District. Darmabakti Cendekia: Journal of Community Service and Engagements, 1(2), 34. https://doi.org/10.20473/dc.v1.i2.2019.34-38
Badan Pusat Statistik, I. (2020). Produksi Jagung Menurut Provinsi (Ton) Tahun 1993-2015.
Dharmawibawa, I. D. (2021). EFEKTIFITAS PEMANFAATAN TONGKOL JAGUNG SEBAGAI MEDIA PERTUMBUHAN MISELIUM JAMUR TIRAM (Pleurotus ostreatus) DALAM UPAYA PEMBUATAN BROSUR PANGAN MASYARAKAT. Jurnal Ilmu Sosial Dan Pendidikan, 5(1), 489–497. http://ejournal.mandalanursa.org/index.php/JISIP/index
Hakiki, A., Purnomo, A. S., & Sukesi. (2013). Pengaruh Tongkol Jagung Sebagai Media Pertumbuhan Terhadap Kualitas Jamur Tiram (Pleurotus ostreatus). Jurnal Sains Dan Seni Pomits, 1(1).
Nurbaiti, N. I., & Prambasati, N. R. (2010). Prarancangan pabrik furfural dari tongkol jagung kapasitas 10.000 ton/tahun [Universitas Sebelas Maret]. https://digilib.uns.ac.id/dokumen/detail/12812
Sutisna, S., Sholih, S., Naim, M., Nonformal, P., Keguruan, F., Sultan, U., & Tirtayasa, A. (2020). Pemberdayaan Masyarakat Melalui Pelatihan Aksesoris Berbahan Bonggol Jagung dalam Mengembangkan Usaha Mandiri. 4(1), 63–72.
Wiwin Rita, S., April Yanti, F., Ayuwanti, I., & Perdana, R. (2018). Pelatihan Pemanfaatan Bonggol Jagung Sebagai Media Pembuatan Jamur Janggel Di Desa Gantiwarno Lampung Timur. Lumbung Inovasi: Jurnal Pengabdian Kepada Masyarakat, 3(2), 34–37. https://doi.org/10.36312/LINOV.V3I2.444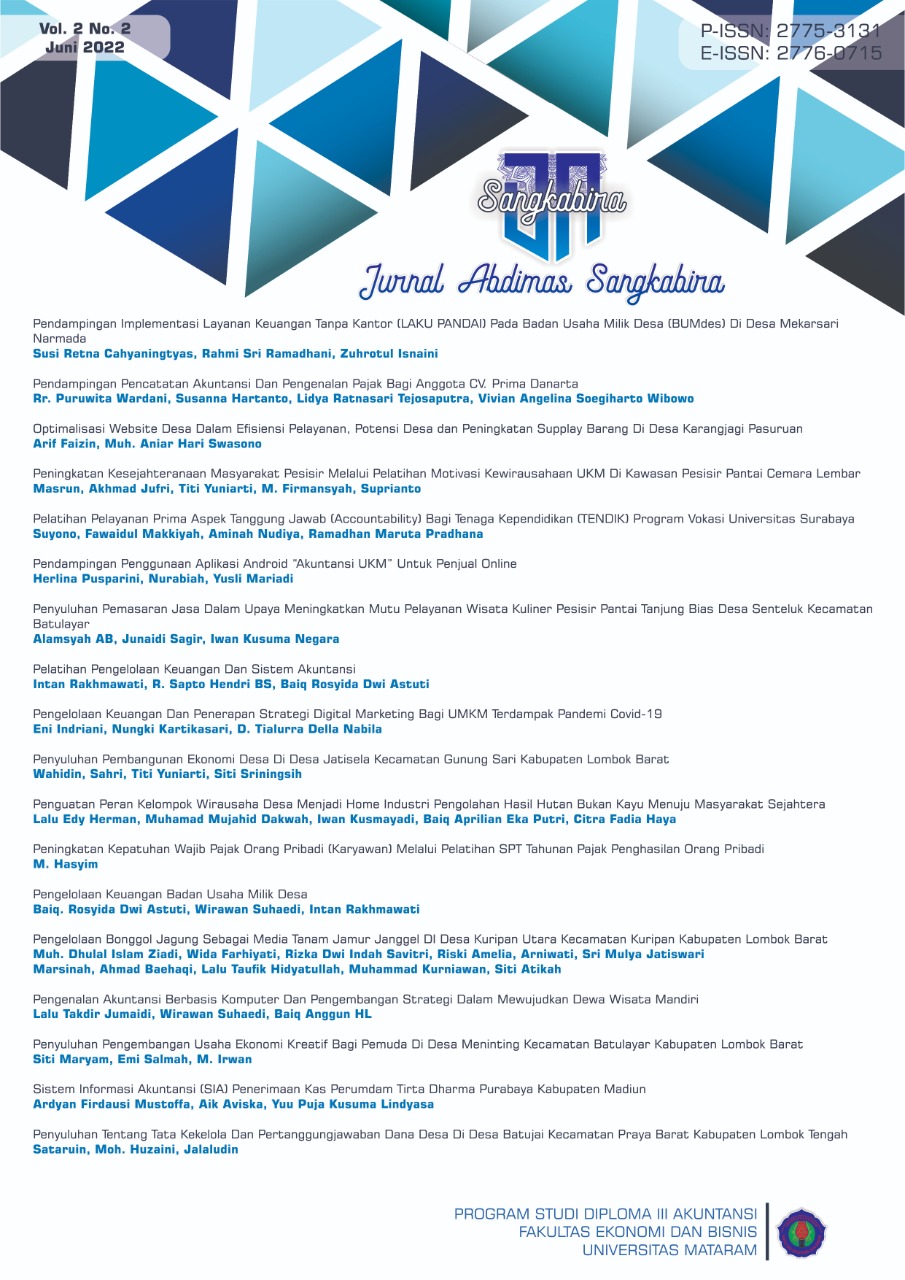 Downloads
How to Cite
Ziadi, M. D. I., Farhiyati, W., Savitri, R. D. I., Amelia, R., Arniwati, A., Jatiswari, S. M., Marsinah, M., Baehaqi, A., Hidyatullah, L. T., Kurniawan, M., & Siti Atikah. (2022). PENGOLAHAN BONGGOL JAGUNG SEBAGAI MEDIA TANAM JAMUR JANGGEL DI DESA KURIPAN UTARA KECAMATAN KURIPAN KABUPATEN LOMBOK BARAT. Jurnal Abdimas Sangkabira, 2(2), 268–277. https://doi.org/10.29303/abdimassangkabira.v2i2.127
License
Copyright (c) 2022 Jurnal Abdimas Sangkabira
This work is licensed under a Creative Commons Attribution-NonCommercial-ShareAlike 4.0 International License.
Penulis yang naskahnya diterbitkan menyetujui ketentuan sebagai berikut:
Hak publikasi atas semua materi naskah jurnal yang diterbitkan/dipublikasikan dalam situs Jurnal Aplikasi Akuntansi ini dipegang oleh dewan redaksi dengan sepengetahuan penulis (hak moral tetap milik penulis naskah).
Ketentuan legal formal untuk akses artikel digital jurnal elektronik ini tunduk pada ketentuan lisensi Creative Commons Attribution-ShareAlike (CC BY-SA), yang berarti Jurnal Aplikasi Akuntansi berhak menyimpan, mengalih media/format-kan, mengelola dalam bentuk pangkalan data (database), merawat, dan mempublikasikan artikel tanpa meminta izin dari Penulis selama tetap mencantumkan nama Penulis sebagai pemilik Hak Cipta.
Naskah yang diterbitkan/dipublikasikan secara cetak dan elektronik bersifat open access untuk tujuan pendidikan, penelitian, dan perpustakaan. Selain tujuan tersebut, dewan redaksi tidak bertanggung jawab atas pelanggaran terhadap hukum hak cipta.