PENYULUHAN TENTANG TATA KELOLA DAN PERTANGGUNGJAWABAN DANA DESA DI DESA BATUJAI KECAMATAN PRAYA BARAT KABUPATEN LOMBOK TENGAH
Keywords:
Pengelolaan Dana, Pertanggungjawaban Dana
Abstract
Law Number 6 of 2014 and its implementation regulation have mandated a more independent village government in managing its governanceand the various village's natural resources, including assets and financial management. The counseling on managing and accountability village funds in Batujai village, West Praya district, Central Lombok Regency, aims to 1). Increase the village officials' knowledge and understanding of the village funds or financial management, including planning and implementation stages; 2). Improve the village officials' technical accounting skills, especially the village fund or financial management unit, including the village financial reporting and administration. In conclusion, the community service program is very beneficial because it is following the village's needs, such as managing the village funds, especially those sourced from central funds or APBN. Also, its material fits the village's demand perfectly within the governance, accountability, and the village funds reporting, especially those sourced from the APBN.Technically, it is very communicative and interactive because it can involve participants actively in presenting the material.
References
Anonim, 2014, Peraturan Menteri Dalam Negeri Nomor 113 Tentang 2014 Tentang Pengelolaan Keuangan Desa, Kementerian Dalam Negeri RI, Jakarta.
Anonim, 2014 Undang-Undang Nomor 6 Tahun 2014 Tentang Desa, Kementerian Dalam Negeri RI, Jakarta.
Akuntan Indonesia, Januari-Februari 2015, "IAI Siap Sukseskan Akuntabilitas Dana Desa"
Rosalinda, Okta, 2014, Pengelolaan Alokasi Dana Desa (ADD) Dalam Menunjang Pembangunan Desa (Studi Kasus : Desa Segodorejo dan Desa Ploso Kerep, Kecamatan Subomito, Kabupaten Jombang). Artikel Jurusan Ilmu Ekonomi, Fakultas Ekonomi dan Bisnis, Universitas Brawijaya Malang. Diunduh dari http://download.portalgaruda.org tanggal 28 maret 2015
Subroto, Agus, 2009, Akuntabilitas Pengelolaan Dana Desa (Studi Kasus Pengelolaan Dana Desa di Desa-desa Dalam Wilayah Kecamatan Tlogomulyo Kabupaten Temanggung Tahun 2008), Tesis Program Magister Sains Akuntansi, Universitas Diponegoro, Semarang
Thomas, 2013, Pengelolaan Alokasi Dana Desa Dalam Upaya Meningkatkan Pembangunan Desa Sebawang Kecamatan Sesayap kabupaten Tana Tidung. eJournal Pemerintahan Integratif. Diunduh dari www.ejournal.pin.or.id tanggal 28 Maret 2015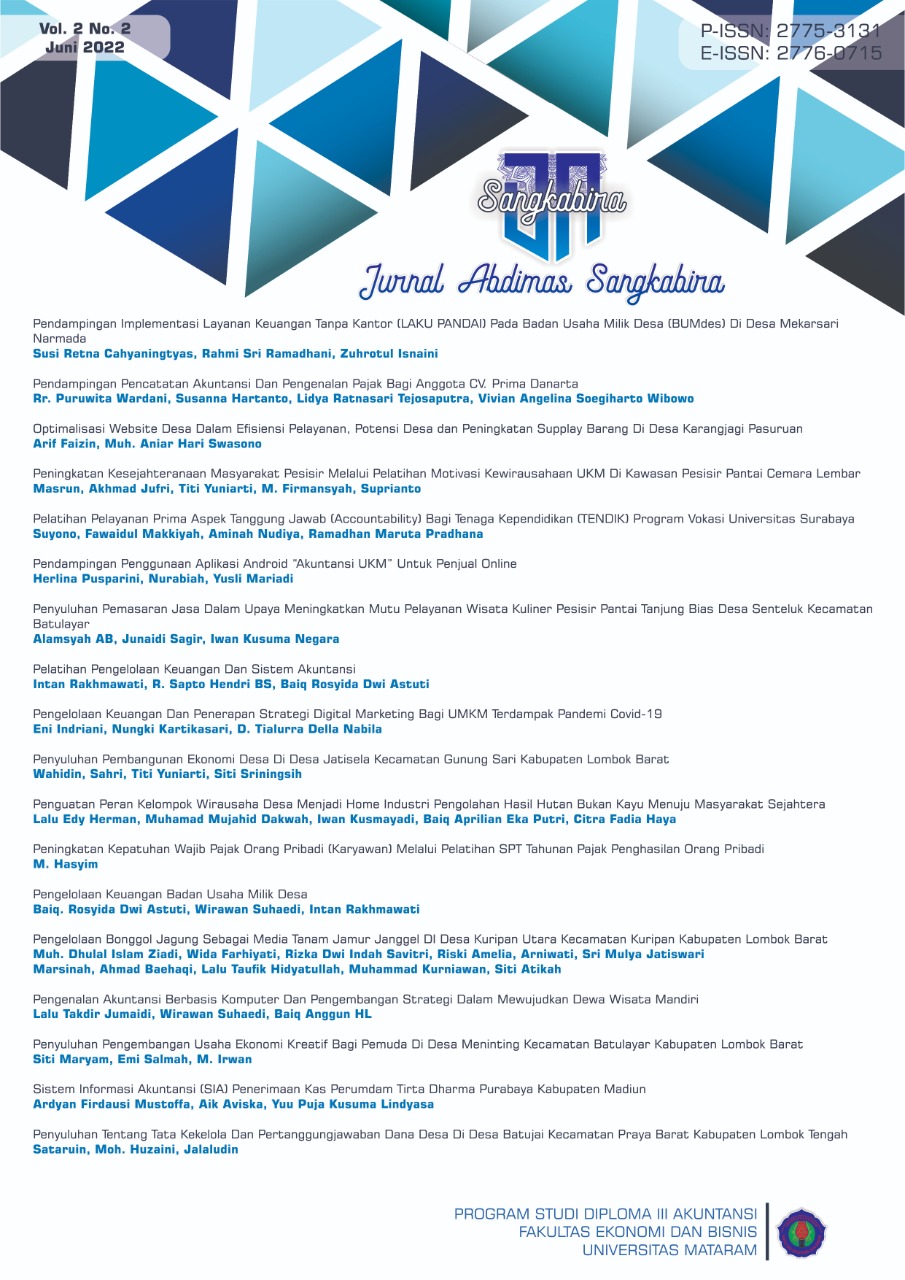 Downloads
How to Cite
Satarudin, S., Huzaini, M., & Jalaludin, J. (2022). PENYULUHAN TENTANG TATA KELOLA DAN PERTANGGUNGJAWABAN DANA DESA DI DESA BATUJAI KECAMATAN PRAYA BARAT KABUPATEN LOMBOK TENGAH. Jurnal Abdimas Sangkabira, 2(2), 313–319. https://doi.org/10.29303/abdimassangkabira.v2i2.219
License
Copyright (c) 2022 Jurnal Abdimas Sangkabira
This work is licensed under a Creative Commons Attribution-NonCommercial-ShareAlike 4.0 International License.
Penulis yang naskahnya diterbitkan menyetujui ketentuan sebagai berikut:
Hak publikasi atas semua materi naskah jurnal yang diterbitkan/dipublikasikan dalam situs Jurnal Aplikasi Akuntansi ini dipegang oleh dewan redaksi dengan sepengetahuan penulis (hak moral tetap milik penulis naskah).
Ketentuan legal formal untuk akses artikel digital jurnal elektronik ini tunduk pada ketentuan lisensi Creative Commons Attribution-ShareAlike (CC BY-SA), yang berarti Jurnal Aplikasi Akuntansi berhak menyimpan, mengalih media/format-kan, mengelola dalam bentuk pangkalan data (database), merawat, dan mempublikasikan artikel tanpa meminta izin dari Penulis selama tetap mencantumkan nama Penulis sebagai pemilik Hak Cipta.
Naskah yang diterbitkan/dipublikasikan secara cetak dan elektronik bersifat open access untuk tujuan pendidikan, penelitian, dan perpustakaan. Selain tujuan tersebut, dewan redaksi tidak bertanggung jawab atas pelanggaran terhadap hukum hak cipta.