PENDAMPINGAN PENGEMBANGAN KAPASITAS PRODUKSI DENGAN VALUE CHAIN ANALYSIS PADA UMKM BATIK SEKARNITI YOGYAKARTA
Keywords:
SMEs, Value Chain Analysis, Production Capacity, SMEs Performance
Abstract
MSME activities (Micro, Small and Medium Enterprises) are dominated by human labor or labor-intensive, which means that the absorption of labor is very high in the MSME sector. Batik Sekarniti is a small industry engaged in the production of traditional batik. PKM activities carried out online and offline went well and smoothly. The face-to-face meeting aims to conduct a pre-survey of the condition of MSMEs so as to help plan PKM activities. The core of the activity is mentoring and training which is held online using Google Meet media. The participants of the activity were 30 people consisting of two owners and 28 employees of the Batik Sekarniti UMKM located in Temanggal, Wijimulyo, Nanggulan, Kulon Progo, DI. Yogyakarta. The results of the activity show that there is potential for UMKM Batik Sekarniti to increase production capacity, namely in the process of batik writing.
References
Anggraini, Dewi, and Syahrir Hakim Nasution. "Peranan kredit usaha rakyat (KUR) bagi pengembangan UMKM di Kota Medan (studi kasus Bank BRI)." Ekonomi dan Keuangan 1.3 (2013).
Jurevicius, Ovidijus. 2013. Value Chain Analysis. Strategic Managegment Insight. https://strategicmanagementinsight.com/tools/value-chain-analysis.html
Walters, David, and Geoff Lancaster. "Implementing value strategy through the value chain." Management Decision (2000).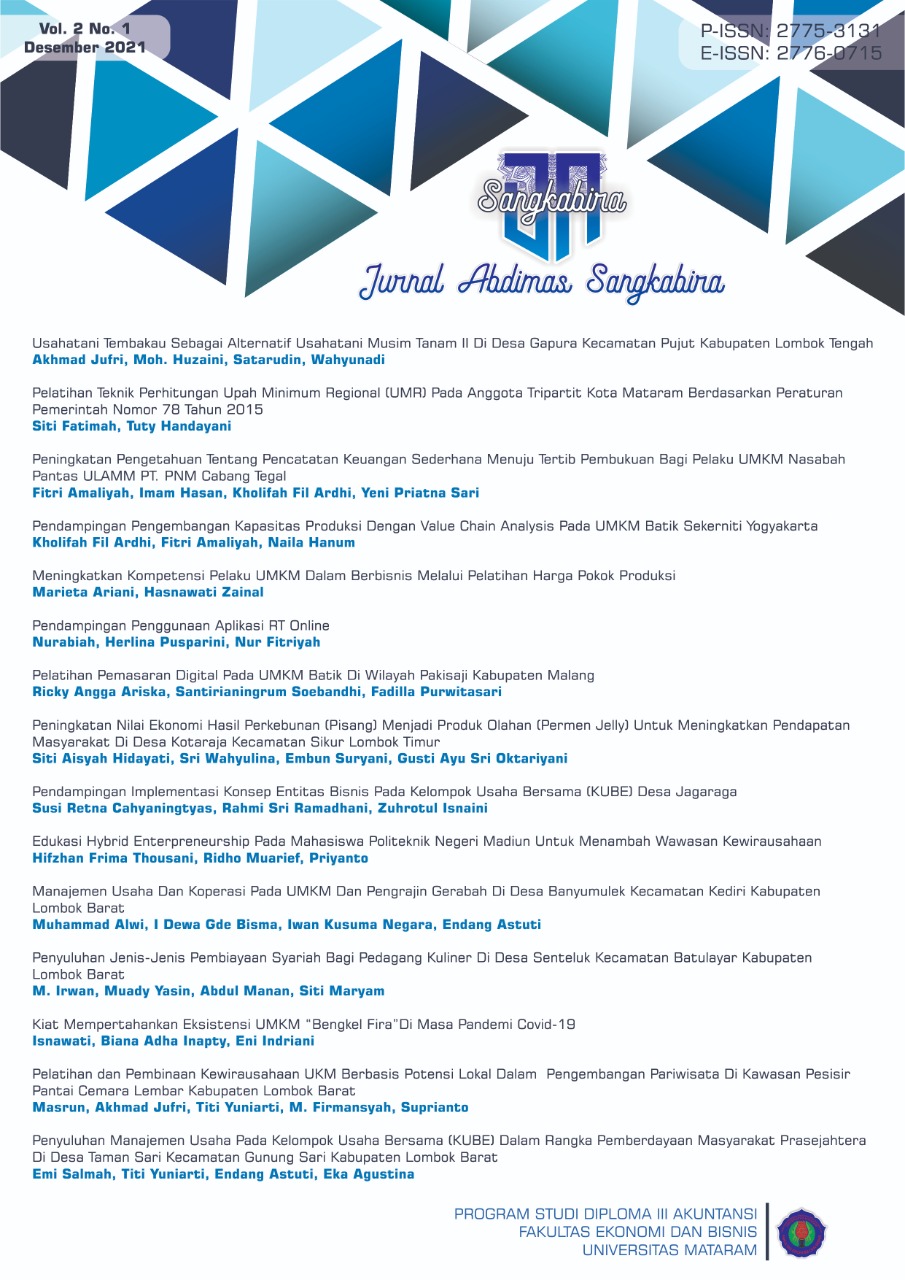 Downloads
How to Cite
Ardhi, K. F., Amaliyah, F., & Hanum, N. (2021). PENDAMPINGAN PENGEMBANGAN KAPASITAS PRODUKSI DENGAN VALUE CHAIN ANALYSIS PADA UMKM BATIK SEKARNITI YOGYAKARTA. Jurnal Abdimas Sangkabira, 2(1), 31–40. https://doi.org/10.29303/abdimassangkabira.v2i1.63
License
Copyright (c) 2021 Jurnal Abdimas Sangkabira
This work is licensed under a Creative Commons Attribution-NonCommercial-ShareAlike 4.0 International License.
Penulis yang naskahnya diterbitkan menyetujui ketentuan sebagai berikut:
Hak publikasi atas semua materi naskah jurnal yang diterbitkan/dipublikasikan dalam situs Jurnal Aplikasi Akuntansi ini dipegang oleh dewan redaksi dengan sepengetahuan penulis (hak moral tetap milik penulis naskah).
Ketentuan legal formal untuk akses artikel digital jurnal elektronik ini tunduk pada ketentuan lisensi Creative Commons Attribution-ShareAlike (CC BY-SA), yang berarti Jurnal Aplikasi Akuntansi berhak menyimpan, mengalih media/format-kan, mengelola dalam bentuk pangkalan data (database), merawat, dan mempublikasikan artikel tanpa meminta izin dari Penulis selama tetap mencantumkan nama Penulis sebagai pemilik Hak Cipta.
Naskah yang diterbitkan/dipublikasikan secara cetak dan elektronik bersifat open access untuk tujuan pendidikan, penelitian, dan perpustakaan. Selain tujuan tersebut, dewan redaksi tidak bertanggung jawab atas pelanggaran terhadap hukum hak cipta.