PENGENALAN STANDAR AKUNTANSI BERBASIS KOMPUTER DALAM MEWUJUDKAN DESA WISATA YANG MANDIRI
Keywords:
Desa Wisata, Akuntansi Berbasis Komputer
Abstract
This subservience was done for human sources of tourism are not used optimally and the use of manual accounting is not effective and efficient in accommodating the development of the activities of village tourism. In addition, management and other institutions involved need financial report quickly and objectively. These phenomena are the result of the development of computer technology. The aim of this subservience is giving knowledge on businessman and development of village tourism finance through introducing computer-based accounting in order management and other institutions involved ready to take such policy. In accordance with the result of field survey, a more effective technique was by dissemination and guidance comprehensively on developing strategy for village tourism and introducing computer-based accounting in case of management activities of village tourism are able to be developed and be being an autonomous one. The finding was simple people having better comprehension on the use of computer-based accounting than manual.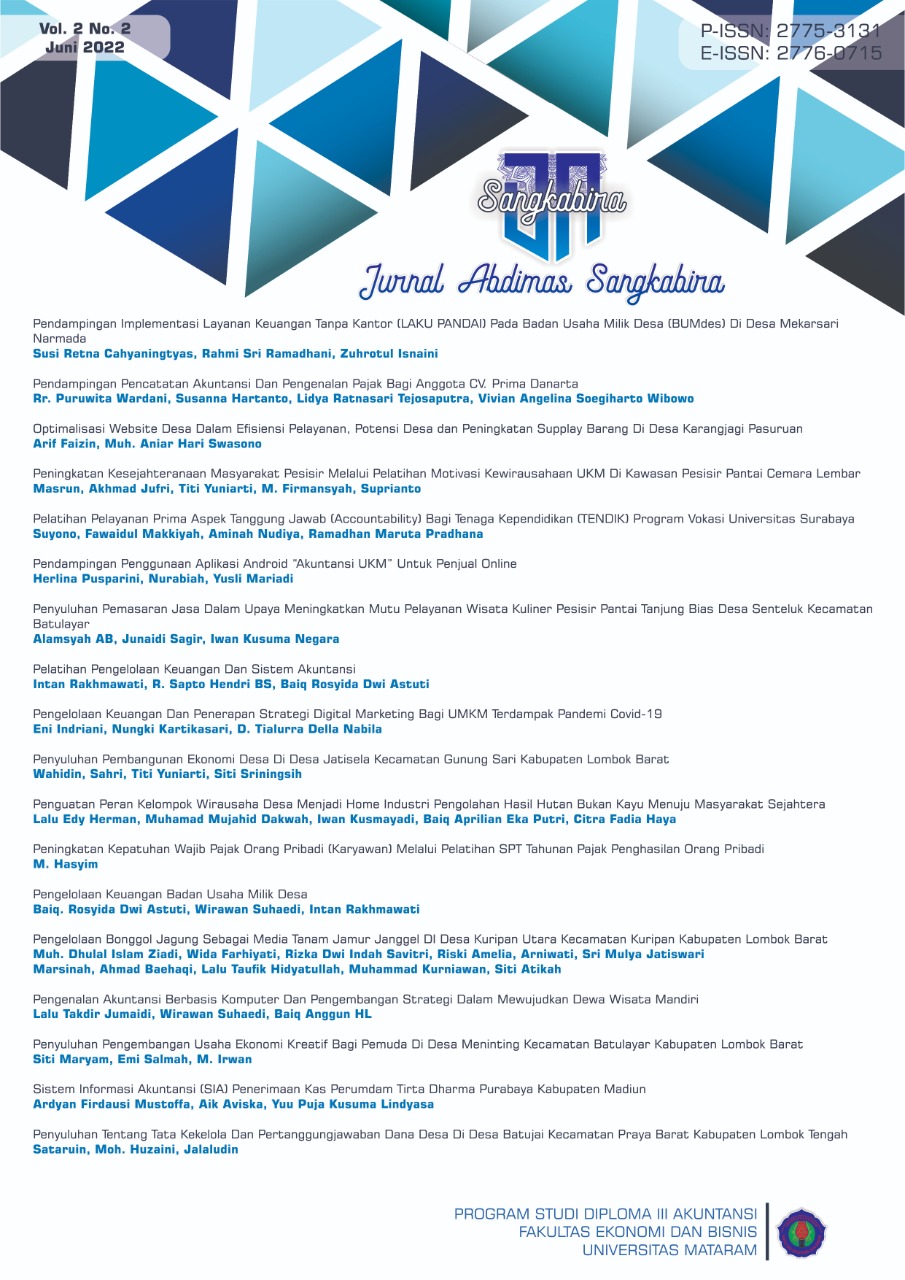 Downloads
How to Cite
Jumaidi, L. T., Suhaedi, W., & Hilendri L., B. A. (2022). PENGENALAN STANDAR AKUNTANSI BERBASIS KOMPUTER DALAM MEWUJUDKAN DESA WISATA YANG MANDIRI. Jurnal Abdimas Sangkabira, 2(2), 278–293. https://doi.org/10.29303/abdimassangkabira.v2i2.67
License
Copyright (c) 2022 Jurnal Abdimas Sangkabira
This work is licensed under a Creative Commons Attribution-NonCommercial-ShareAlike 4.0 International License.
Penulis yang naskahnya diterbitkan menyetujui ketentuan sebagai berikut:
Hak publikasi atas semua materi naskah jurnal yang diterbitkan/dipublikasikan dalam situs Jurnal Aplikasi Akuntansi ini dipegang oleh dewan redaksi dengan sepengetahuan penulis (hak moral tetap milik penulis naskah).
Ketentuan legal formal untuk akses artikel digital jurnal elektronik ini tunduk pada ketentuan lisensi Creative Commons Attribution-ShareAlike (CC BY-SA), yang berarti Jurnal Aplikasi Akuntansi berhak menyimpan, mengalih media/format-kan, mengelola dalam bentuk pangkalan data (database), merawat, dan mempublikasikan artikel tanpa meminta izin dari Penulis selama tetap mencantumkan nama Penulis sebagai pemilik Hak Cipta.
Naskah yang diterbitkan/dipublikasikan secara cetak dan elektronik bersifat open access untuk tujuan pendidikan, penelitian, dan perpustakaan. Selain tujuan tersebut, dewan redaksi tidak bertanggung jawab atas pelanggaran terhadap hukum hak cipta.